WELCOME TO NAORRR
NAORRR, an affiliate of the Central Conference of American Rabbis, was founded in 1984.  Our purpose is to provide support and advocacy for, and to foster fellowship among, retired and about to be retired rabbis, their spouses/partners and surviving spouses/partners.  NAORRR seeks to present opportunities for discussion of the practical problems and needs of its members; to enable its members to continue their efforts to preserve and promote Judaism; to provide opportunities for scholarly stimulation and Torah study, and to continue strengthening and supporting the CCAR in its endeavors. ​ We'd love to keep in touch with you!  NAORRRnet is one of the ways we can stay in touch. To sign up go here  and follow the instructions to sign up.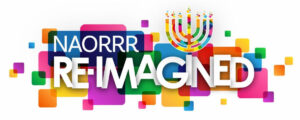 ************
The 2022 NAORRR Virtual Convention was fantastic!
Video recordings of convention scholars and programs can be found here.
NAORRR's  Online Programs are available for viewing  
Go to this page to watch recordings.
NAORRR Is in Need of Volunteers
NAORRR is powered by many wonderful, dedicated volunteers. And we always need more. Currently, we are urgently seeking the following:
Editor for Ohr L'Naorrr
Ohr L'Naorrr, our organization's Newsletter is published twice a year – Spring and Fall. The Editor is responsible for seeking writers, editing manuscripts and over-all editorial quality. The Editor should have good computer skills, but most importantly, must have an awareness of NAORRR's activities and the interests of members.
Webmaster
The Webmaster is responsible for overseeing, updating and energizing our Web page. This individual needs to have good computer skills and, if possible, some previous experience creating web-pages.

NOTE: These positions could be filled by the same person or by different people.
If interested, please contact Gary and Joanie at:  naorrrglickstein@gmail.com
Webinar Coordinator
We are looking for someone with Zoom experience who can coordinate our Zoom-based programming, in conjunction with our Tech specialist. (Contact Julian for further information.)
Caring Committee
We have a robust committee of several people who stay in voice contact with our members who are "shut-in" or have medical issues. They provide a friendly call several times during the year. If you would like to join this effort, please contact Steve Moss samoss@optonline. net. You can make a difference in someone's life, and the experience is rewarding.
*********
Continuing Rabbinic Education
As part of the new Continuing Education Requirement, each member of the CCAR is asked annually to read the CCAR Code of Ethics. You were given the opportunity to indicate that you had read the Code when you submitted your most recent CCAR dues form. If you did NOT indicate on your dues form that you have read the code, please take a few minutes to read the Ethics Code and indicate that you have done so here.
This year, rabbis are required to have 3 hours of CRE, and our Scholar-in-Residence programs with David Ellenson will take care of two of those, and any of our other workshops or study sessions will count for another one, making it very easy for our members to get in all 3 credits by next July.
NAORRR Now Accepts PayPal payments  
NAORRR now accepts payments for dues and convention registration (not hotel) using PayPal!  To do so, click
Officers – 2022
President – Marty Lawson
First Vice President – Jack Luxemburg
2nd Vice-President – Bennett Miller
Treasurer – Suellen Winer
Recording Secretary – Henry Karp
Immediate Past-President – Robert Orkand
BOARD OF TRUSTEES
Terms Expiring 2024
Steven Moss
Rifat Sonsino
Lynn Stahl
Sue Weiss

Terms Expiring 2025
Steven Moss
Rifat Sonsino
Lynn Stahl
Sue Weiss

Terms Expiring 2025
Peter Kasdan
Nina Packman
Larry Englander
Barbara Goldman-Wartell
Terms Expiring 2026
Joyce Foster
Howard Shapiro
Lennard Thal
Eric Wisnia
To Contact NAORRR:
Gary and Joanie Glickstein, Co-Executive Vice Presidents
1 Grove Isle Dr. 1803
Miami, Florida 33133
Mobile: (786)512-6699 (Gary)      (786)261-1124 (Joanie)
email:  naorrrglickstein@gmail.com